Today is the sixth day of
Sharad Navratri
, and as believed, Goddess Katyayani is highly worshipped on this day. She is considered as the sixth form of Maa Durga. Read out this blog and know about the significance of this day, fasting rituals and how to please her.

Ask KP System Astrologer
Price : Rs. 715
Sale Price : Rs. 455

Ask Lal Kitab Astrologer
Price : Rs. 715
Sale Price : Rs. 455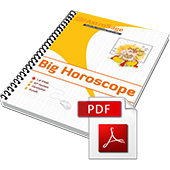 AstroSage Big Horoscope
Price : Rs. 1105
Sale Price : Rs. 650
Goddess Katyayani
Portrayed as the fierce form of Maa Durga, Maa Katyayani is signified as her sixth form. According to Hindu mythology, Maa Durga was the daughter of Katyayana sage and thus named after the lineage. Worshipping the goddess with a whole heart and clean conscience while following rituals will surely help you fulfil your dreams.
Traditions & Beliefs
Goddess Katyayani is depicted as a lion-riding, magnificent and fierce entity with four hands. Two of her hands carry Abhaya and Varada Mudras and the other two carry lotus and sword. She dons red-coloured clothes and is hailed as the Ultimate Warrior. In order to put an end on the evils of Mahishasura, Goddess Parvati took the form of Katyayani and killed the demon.
Rituals to be Followed
Pour Gangajal into water and take a bath before sunrise.
Wear neat and clean clothes after bathing and keep chanting the mantra, "ॐ देवी कात्यायन्यै नमः"
Keep coconut on the top of the urn.
Cover the urn with a sacred cloth or chunni and bind an auspicious thread or kalawa around its neck.
Mix Vermillion or Kumkum, Turmeric and Rice together, make a paste and apply a Tilak on Goddess Katyayani's picture or idol.
Pour one teaspoon clarified butter or Ghee into the diya and light it in front of the idol or picture.
Offer her honey and later distribute the holy prasad after singing the Aarti.
Astrological Importance
As per the realms of astrology, Goddess Katyayani controls the Jupiter planet. This helps to eliminate negative effects of Jupiter from devotees' horoscopes or Kundli and offer favourable results.
Beginning of Durga Puja
Being a mega event, Durga Puja is colorfully celebrated within the regions of West Bengal, Assam and Odisha. It begins with the sixth day of Navratri and celebrates the presence of Maa Durga on Earth. It was on this day that the fierce goddess came on Earth and graced humankind with her appearance. As per traditions, the rituals for Bilva Nimantran Pujan, Kalpaaranbh, Akaal Bodhan, Aamantran and Adhivaas are conducted.
AstroSage wishes you a very Happy Sharad Navratri 2017. We hope Goddess Katyayani's blessings always stay with you.