The secret to success lies here! With the Monthly Horoscope, you will be able to know what the month of September holds for you. By knowing what you might come across, you will be able to act wisely and easily pave your way to success.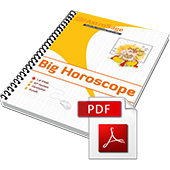 Aries
You will be able to achieve success at your workfront. You might also consider going on a foreign trip. You might acquire a new land, property or vehicle during this month.
Read more...
Taurus
Your luck star will shine bright and many of your wishes will come true. You will be fit as the fiddle during this month. You will benefit in property related matters.
Read more...
Gemini
You will gain profits from foreign connections. You will be able to gain an upper hand over your enemies during the month of September. A promotion at your workplace or a hike in your salary is likely to happen.
Read more…
Cancer
This month, you need to prioritize your health. Try to give your best shot at your workplace in order to get the desired results. You might have some disagreements with your spouse.
Read more...
Leo
The life at your family front might be chaotic. You might spend your hard earned money in a reckless manner. You might get profits through your ancestral property.
Read more...
Virgo
You will receive benefits from many sources. You are bound to get success in whatever endeavors you take up. A foreign trip is on the cards for you.
Read more...
Libra
You will be packed with energy and valour. Your siblings might go abroad during this month. A promotion at your workplace might be the highlight of this month.
Read more...
Scorpio
Monetary benefits will fall into your lap during this month. Your marital life will be filled with peace and harmony. You are advised to take care of your health.
Read more...
Sagittarius
Gains through foreign connections are highly probable. Make wise decisions and be careful in your decision making as there are chances of loss of money too.
Read more...
Capricorn
You are bound to achieve success even if you try a little. You will get benefits from unexpected sources. Your spouse might feel a bit under the weather.
Read more...
Aquarius
You might go on a foreign trip during this month. A change in your workplace is indicated. The health of your spouse might dwindle.
Read more...
Pisces
You will be more inclined towards performing spiritual and religious deeds. The month is good for you as far as financial matters are concerned. You will get positive results in matters of litigation.
Read more...