This is what the Solar Eclipse will do to you! The solar eclipse on 21 August will bring about changes in the life of people of different zodiac signs. Find out what will be its effect on your life.

Ask KP System Astrologer
Price : Rs. 715
Sale Price : Rs. 455

Ask Lal Kitab Astrologer
Price : Rs. 715
Sale Price : Rs. 455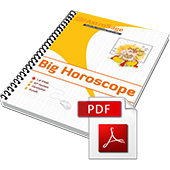 AstroSage Big Horoscope
Price : Rs. 1105
Sale Price : Rs. 650
The Solar Eclipse is taking place in the Magha Nakshatra and in the zodiac sign Leo. The shadow planet Ketu is the ruler of the Magha nakshatra. The eclipse will affect the people of all the zodiac signs in a different manner. This solar eclipse is the second and the last solar eclipse of this year.
हिंदी में पढ़ने के लिए यहाँ क्लिक करे
Those who have a Kaalsarp Dosh in their birth chart or those who are undergoing through the major period or sub period of Rahu and Ketu might suffer because of this transit. The people who have a malefic Moon or Sun in their birth chart are also prone to the evil effects of this transit. The after-effect of the solar eclipse will linger for about 30 days.
Visibility of the solar eclipse: This solar eclipse will be totally visible in the USA, while countries like North America, northern regions of South America, western Europe, Northwest Asia and some parts of Africa would be able to witness it partially.
(The Solar Eclipse will not be visible in India)
Solar Eclipse starting time and ending time:
Note: The above time is given according to the Indian Standard Time (IST)
Effects of Grahan
According to Vedic Astrology, the Sun holds a strong position in its own sign, Leo during this solar eclipse. The Moon is also in the same Zodiac sign while the eclipse is taking place. The Sun and the Moon are in each other's vicinity, while Rahu has entered the zodiac sign Cancer. This position of Rahu makes it capable to have negative effects on the Sun and the Moon. Several issues in politics, economy, health, etc. will be seen as a result of this eclipse.
Sutak Period of eclipse
Though the Solar eclipse will not be visible from India, so the Sutak period will not be applicable for India. But for other countries where it will be visible, Sutak must be considered.
Things to keep in mind during the solar eclipse
Perform Puja and charity before the eclipse takes place.
Do not touch idols and Tulsi plant during the eclipse.
As soon as the eclipse gets over, do not forget the bathe the idols and worship them.
Consume food only after the Sutak period is over.
Do not waste the food that is cooked prior to the solar eclipse. Use Tulsi leaves to preserve it.
Pregnant women must not move out during the eclipse and should not use sharp objects.
Recite this mantra: Om Adityay Vidmahe Divakaraye Dheemahi Tanno Suryah Prachodayat ||
At AstroSage, we hope that the article has enlightened you and wish you a bright future ahead!
Apart from the Solar eclipse or surya grahan, Somvati amasya is also falling on the same date. Let's know how this day is auspicious for Pitra Poojan.
Somvati Amavasya
Somvati amavasya falls on the Monday coinciding with Amavasya (New Moon). This day holds a lot of significance in Hindu mythology and falls twice a year. This year, Somvati amavasya is falling on 21st August and 18th December. The Monday or somvar is dedicated to Lord Shiv, making it a much auspicious day. Females keep fast on this day for their husband's longevity and people offer libation to their ancestors. Also, this day is considered to be very opportune to organise Pitra dosh Puja.
Significance of Somvati Amavasya
This day holds the significance of offering donations and having holi river bath. Females worship Peepal tree on this day and perform Prikrama. Parikrama has a deep implication in hindu mythology and it believed to bring positivity and peace in one's life. Though, Pitra tarpan can be observed on any amavasya but SOmvati amavasya has an upper hand on it.
Somvati Amavasya Puja Vidhi
While bathing in holi river in the morning and praying to your ancestors brings peace and positivity.
Offer water to Surya Dev and Tulsi plant. Along with that, feed cow with curd and rice.
Married females should perform Peepal tree puja as per the rituals.
Perform Rudrabhishek for Lord Shiva.
Donate cloths and cereals.
We wish, Surya Grahan and Somvati amavasya may bring good times in your life and you would have cherished the information given by us.