Today i.e. on February 17, 2015, Maha Shivratri is observed by the devotees throughout the country. Keep a fast, worship Lord Shiva with full devotion, and get wet in the showers of his divine blessings. Know about the path of getting salvation by reading more...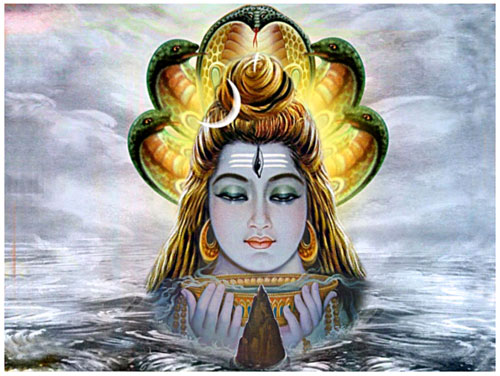 Today is the auspicious day of Mahashivratri, the day dedicated to
Lord Shiva
. This festival possesses a great importance for all the Shiva devotees. Maha Shivaratri is celebrated on the thirteenth or fourteenth day of Krishna Paksha (dark fortnight) of Phalguna month of Hindu calendar. Let's first know about the auspicious Muhurat of Maha Shivaratri.
Mahashivratri: Auspicious Puja Muhurat 2015
Nishita Puja Muhurat: 24:09 to 25:00
First Prahar Puja Time: 18:08 to 21:21 (February 17, 2015)
Second Prahar Puja Time: 21:21 (February 17, 2015) to 00:34 (February 18, 2015)
Third Prahar Puja Time: 00:34 (February 18, 2015) to 03:48 (February 18, 2015)
Fourth Prahar Puja Time: 03:48 (February 18, 2015) to 07:01 (February 18, 2015)
Next day (February 18, 2015) Parana time:
07:01 to 09:03
Shivaratri is also celebrated every month on the Chaturdashi Tithi of Krishna Paksha, known as Masik Shivaratri. But, the Masik Shivaratri of Phalguna month is the holiest of all.
Mahashivratri: Legend
Two legends or historic tales are associated with Maha Shivaratri. Let's take a look at them:
It is believed that Lord Shiva and Maa Parvati got married on this day. That is why it is considered as the favorite day of Lord Shiva.
Another reason behind the greatness of Mahashivratri is that Lord Shiva saved the world from deadly poison, Halahala on this auspicious day of Maha Shivratri. He consumed and held the poison in his throat, which is why he is named as Neelkanth.
Mahashivratri: Puja Vidhi
The day of Maha Shivaratri begins with Puja rituals of Lord Shiva and Shivalingam either at home or at temple. Fasting and worshiping the Lord continues throughout the day. Let's take a look on the steps of Puja Vidhi that should be followed by a devotee:
Devotees should take holy bath and wear clean clothes.
They should visit Lord Shiva temple and bathed the Shivalingam with Panchamrit, which includes milk, curd, honey, ghee (purified butter), and sugar.
Vermilion is applied on the Shivalingam and Bael Patra, flowers as well as fruits are offered.
Lamp and incense sticks are lit to perform Aarti of Lord Shiva.
Pledge is taken to observe Mahashivratri Vrat with pure heart and soul.
Bath is taken again in the evening before worshiping Lord Shiva.
One can have fruits, milk, and milk products while observing fast, but grains should be totally avoided.
Fast come to an end on the next morning at Parana time.
It is believed that Lord Shiva absorbs all the sins of his devotees and bless them with luck, prosperity, and salvation, if Maha Shivratri is observed with devotion. Make this Mahashivratri a way to reach the lord and get bestowed by his eternal blessings by observing this sacred day with all you can.
AstroSage wishes you a Happy Maha Shivratri 2015!